UFST and UFS Turbo Only V.1.0.5.7 a9 Patch
Redmi note 5 Pro [EDL LOCKED] FRP Reset Done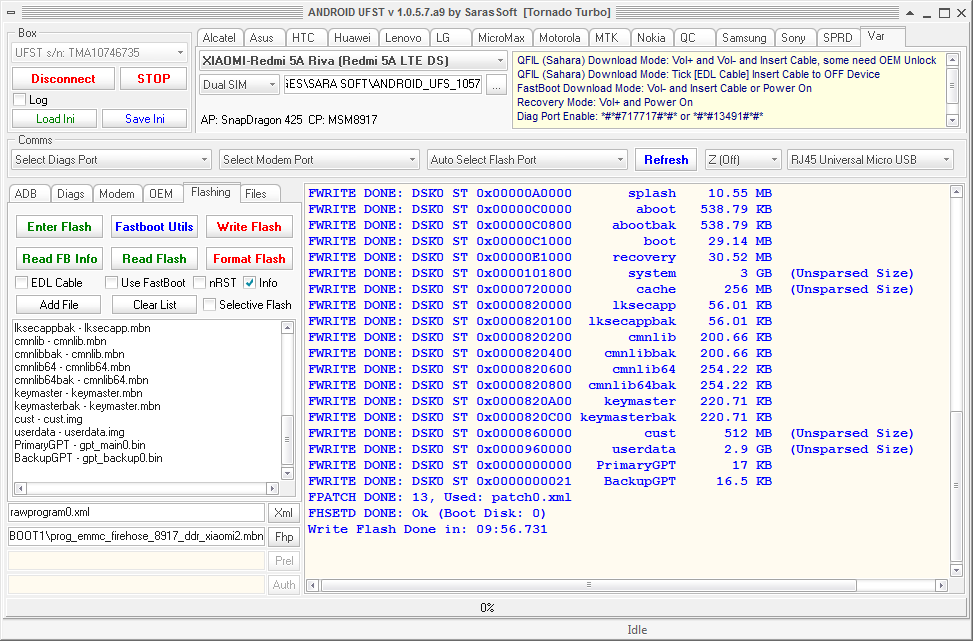 Mi 5a flash success by ufst 1.0.5.7 a9
Redmi Y2 Mi Account Remove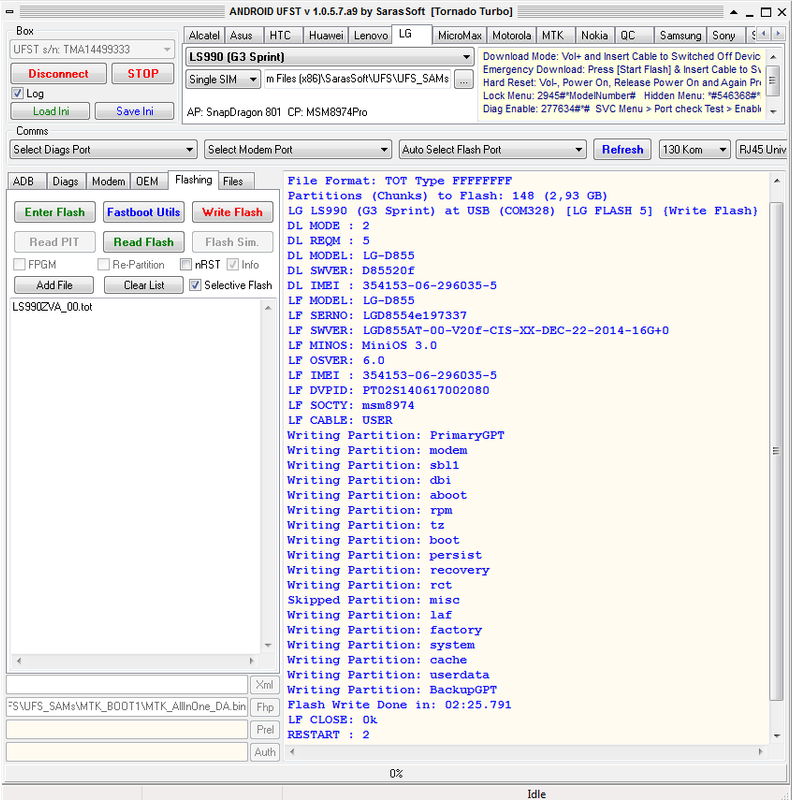 LG D855 TOT writing
Vivo y71 frp remove
STRENGTHENNING XIAOMI NEW SECURITY AND MEIZU
for UFST and UFS Turbo Only
v 1.0.5.7 a9 Patch
-------------------
Revised [ADB] Operations: More Info, Fixed Minor Bugs.
Revised MTK Protocol: Fixed Bugs on some Models Boot, More Secured DA Added.
Revised QC Flashing: Now can select all necessary RawprogramN.xml using
[Add File] button, so not need to Flash few times new MultiDisk Models.
With [Add File] button can also select Firehose from Flash Pack (if need)
Notes:
This Option will not pop-up Selection Form or Ask about Patch permission if
[Selective Flash] not ticked. Patch will done auto if PatchX.xml is found.
Files Selected with [FH] button always will pop-up File Selection Form.
Added Oppo .OFP Files [Extract Img.] for QC Models, Use [Conver GPT] to make
Correct Rawprogram and Patch Files. With gpt_main2 choose Right CDT file from
Avalaible (Example: oppo16027.bin, Auto will be Select First from List)
Added / Modified Models:
ADVAN: B5, i45
ARCHOS: 101C Helium, 40 Power, 50 Diamond, 50 Platinum 4G, 50C Oxygen,
50D Neon, 50F Helium Lite, 55 Diamond Plus, 55B Cobalt Lite, 59 Xenon,
70 Helium, 70 Xenon, 70B Neon, 80 Oxygen, 97C Platinum, Access 55 3G,
Diamond S
ASUS: A009-V500KL (V Live)
AVVIO: Models Added.
BLACKVIEW: A20 Pro, A30, BV5800, BV5800 Pro
BLU: A030U, A230Q, A270a, D600, S0350WW, S0390WW, S0410UU, S0450WW
CHERRY: Flare J1 Lite, Flare S7 Deluxe, Flare S7 Lite, Omega Lite 4
CLOUDFONE: Thrill Boost 2, Thrill Plus, Thrill Power N, Thrill View
CONDOR: Models Added.
COOLPAD: 1851, 1861 Note 8
DEXP: BL250, BS450, T155, Z250
DOOGEE: BL5500 Lite, BL9000, S55, T5S, X55
ELEPHONE: P8 3D
FERO: A4501, Pace 2
HAIER: A41, A6, P10, T51, T53P
HISENSE: L695, M20T, M30T
HUAWEI: CAG-XX, CRO-XX, DRA-XX (SBC Only), JMM-XX, MYA-XX, NCE-XX, TIT-XX
iDROID: Royal V7
INFINIX: X5514 Smart 2 Pro, X5515 Smart 2, X606/X606B Hot 6, X608 Hot 6 Pro
IRBIS: SP401, SP453, SP511, SP517, SP552
ITEL: A15, IT1460, P32
KARBON: K9 Viraat 4G
LAVA: R3, Z60S, Z61, Z91W
LEAGOO: Lead 1, 2, 2S, 3, 4, 5, 6, M9 Pro, Power 2, S9
LENOVO: Z5 (ZUI)
MEIZU: 15-M1881, 15 Lite-M1871, M8C-M1810
MOBICEL: Berry, Dandy, Fever, Pure+, Pure Mini, R1, R2, Switch, Zen
MOBIISTAR: E Selfie, Zumbo J2, Zumbo S, Zumbo S2
MYPHONE: Models Added.
NOKIA: 6.1, X5, X6
OPPO: A3s, A31, A57, A59st, A59t, A71, A83, F3, F5, R9
OUKITEL: C9, OK6000 Plus, U18
PANASONIC: Eluga i7
QIKU: N4
QMOBILE: Noir X1S
SHARP: Aquos M1, Aquos S2 High, Aquos S3, Aquos S3 High, Aquos S3 Mini, Z3
SYMPHONY: i75, V44, V92
TECNO: F4, F4 Pro, IA5, IN1, C9 Pro, F2, F2 LTE, F5, R8S, SA1
ULEFONE: Armor5, S1
VIVO: 1606, X6 Plus, X6A, X6D, Y75S
WIKO: C201 (Tommy 3), C300 (View Lite), K300 (Jerry 3), K400 (Lenny 5),
K600 (Tommy 3), P130 (View Go), P200 (View Max)
XBO: Models Added.
XIAOMI: Mi6X Wayne, Mi Max3 Nitrogen, Mi Pad4 Clover, Redmi Note5 Pro Whyred
XOLO: Era 1X Pro, Era 2X
Read more :
ufst panel 2018
UFST V1.0.5.7
UFST Control Panel 2.7.0.9
UFS Turbo HWK Control Panel